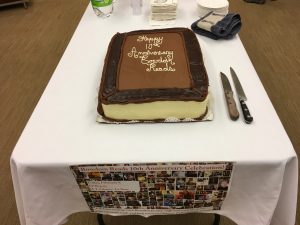 On Friday, February 8th, the Library celebrated ten years of the Bowdoin Reads project, the feature on the Library homepage showcasing what the Bowdoin community is reading.  Begun a little over ten years ago (officially August, 2008), the site has featured over two hundred readers since its inception, rotating faculty, staff, and student readers monthly.  In 2017, we expanded Bowdoin Reads to include watching and listening.
To help us celebrate, we invited some recent past participants to talk about and read from a chosen book. Eduardo Pazos Palma, Director of Religious and Spiritual Life read from Flourishing : Why we need religion in a globalized world, by Miroslav Volf; Michael Friedland, '21 read from Who Will Run the Frog Hospital? by Lorrie Moore; and Osterweis Associate Professor of German, Jill Smith, read from What I Saw by Joseph Roth.  We all enjoyed a fabulous book-shaped cake from the Union Street Bakery.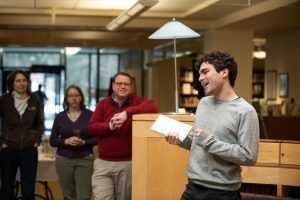 What has Bowdoin been reading all these years?  We've provided a list of books (and a few audio/video titles) which you can also find on the Bowdoin Reads Goodreads site.
Contact Joan Campbell if you, too, would like to participate in Bowdoin Reads|Watches|Listens.
See also the story about the celebration written by Assistant Director of Communications for News Content, Rebecca Goldfine.