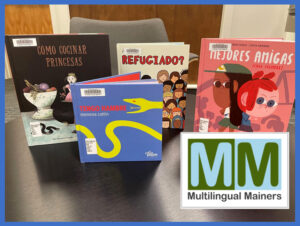 Please join us for a Facetime Live event on Thursday, September 22 at 4 p.m in the Children's Corner, H-L Library, 1st floor. 46 new Spanish language children's books were added to the Bowdoin Library collection to support the work of students enrolled in Professor Margaret Boyle's Teaching and Learning Languages and Cultures class and an honors project by Katharine Barrett, Class of 2023, Multilingualism and Community Engagement. 
The titles were purchased from La Librería, Los Angeles, CA, and support the work of Bowdoin-led Multilingual Mainers. See https://library.bowdoin.edu/collections/bipoc/spanish-language-childrens-books for the full list.
See our other BIPOC collections.