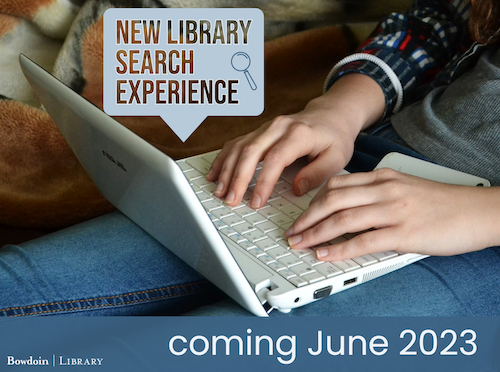 The Compass integrated catalog is a central component of the new library management system Bowdoin, Colby, and Bates have adopted and replaces both CBBcat and OneSearch.
Features include:
A more intuitive and responsive search and browse user experience, with integrated access to the library's print, electronic, and digital materials, and to CBB and ILL borrowing.
Additional search features, filters, and browsing options, including an integrated search to identify new materials.
A mobile-friendly interface.
Single sign-on through Okta to manage your loans and requests, and to create favorite lists and searches.
Staff are available to provide support in person and virtually. Contact your Research Librarian or send us an email if you have a question or would like to schedule a demo of the new interface.
A Work in Progress
Staff have been working throughout the summer and fall semester to fine-tune the catalog's search functionality; complete the integration of external tools, including links to e-resources; and perform necessary data cleanup projects related to the migration. The direct link to MaineCat search and requesting is expected to be live in Compass in November. Please use Interlibrary Loan during this transition period.
The library appreciates your understanding and flexibility. If you have questions, please contact Karen Jung.