A new seminar room is coming to Hawthorne-Longfellow Library this summer!  To support Special Collections & Archives' active instruction program, a 16-person seminar room will be constructed adjacent to the department, on the north side of the 3rd floor.  This dedicated space will significantly augment the ability of SC&A to meet the growing demands of its program, which reaches students and faculty across disciplines.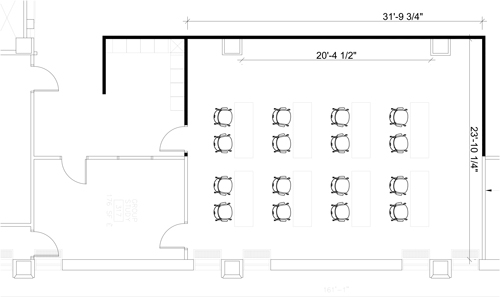 The room will provide
secure, dedicated space for class sessions in which special collections materials can be used safely in a classroom setting.
flexible, modular furniture to support a variety of instruction modes.
technology to support working with objects, including a large LCD panel and laptop connection, and a document camera to project and magnify materials.
a videoconferencing camera to support hybrid events and outside presentations.
an adjacent anteroom with cubbies, where students can leave their belongings before entering the seminar room.
an adjacent office/consultation space for the Special Collections Education and Engagement Librarian.
This project is the most recent of the library's ongoing efforts to think creatively about how to mitigate the limitations of the current building.  We are continually balancing the competing needs of students, faculty, and staff, along with space for collections.  While the project will require the removal of a portion of shelving from the north side of the 3rd floor, we are extremely fortunate to have the library Annex at our disposal.  Librarians have reviewed the collections shelved on the floor and have identified approximately 7000 volumes for relocation.  As is the case for all materials shelved at the Annex, these volumes will be requestable through the catalog and typically available for pick up on campus within 24 hours.
Over the course of the summer, the 3rd floor will be shifted to rationalize the collections in call number order.  We do not anticipate any disruption in services while this work is underway.  The entire project—construction and collections shift—will be completed before the start of the coming academic year.
Any questions about the project can be directed to Marjorie Hassen, Director of the College Library.
mhassen@bowdoin.edu | (207) 725-3281