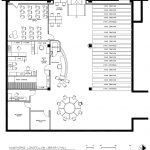 The library is planning a summer project to create a new Media Hub in the basement of H-L Library. The goal of the project is to bring together in a central campus location the collections, technology, staff expertise, services, and facilities to support viewing, creating, and manipulating media. The Media Hub will incorporate the existing Scratch Space lab into an expanded facility with flexible teaching and collaboration spaces. At the same time the collections and essential functions of the Sills Language Media Center (LMC) will be relocated and absorbed into the new space, providing an opportunity to improve accessibility, increase service hours, integrate collections, and better utilize staff currently stationed in Sills. The expanded facility will include:
Individual and collaborative workstations supporting digital design and media playback, creation, and editing
A screening/seminar room seating up to 20, to accommodate Cinema Studies and other film-based courses and student collaboration
A group study room to accommodate up to 6 students for small group screenings or for study and collaboration
A recording studio to support audio and video production including interviews, podcasts, video voice-overs, and lecture videos
Circulation services for media collections and AV equipment
A hands-on training/instruction space for up to 25 (the existing Electronic Classroom), to be used independently or in conjunction with individual workstations
Library and Academic Technology staff will be available in the space to provide expert help with a variety of media-related activities including support for student projects and consultation services for faculty who would like to incorporate film into course assignments or create video lectures for a "flipped" classroom.
Construction should be complete in time for the start of the fall 2015 semester. For more information contact Marjorie Hassen, mhassen@bowdoin.edu | 207-725-3281.