Improvements are coming to Hawthorne-Longfellow and Hatch Science Library!
Hawthorne-Longfellow Library
Research Desk
The Research Desk will be relocated near the entrance to the Research Lab, on the south side of the 1st floor. The move, along with new and configured furniture, will facilitate interactions between liaisons and library users. Soft seating will be installed in the space currently occupied by the existing desk.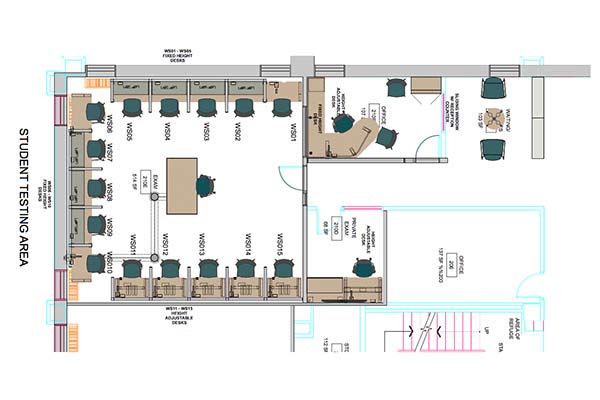 College Test Center
A new facility, the College Test Center, will be created on the south side of the 2nd floor. The Center will provide a controlled environment designed to support students who have approved accommodations for disabilities or require other special arrangements for test taking. When not scheduled for exams—during most evenings and weekends—the space will be available to the student community for quiet study. Overseen by Lesley Levy, Director of Student Accessibility, the Test Center will not only meet a long-standing need at the College but will be a welcome addition to H-L's student-centered resources.
Faculty Study Commons
A Faculty Study Commons will be created adjacent to the current Faculty Research Room on the north side of the 2nd floor. This new space, which will replace existing faculty studies, will provide carrels, soft seating, and bookshelves to support individual study and research. The adjacent Research Room, which will be connected directly to the Study Commons, will be newly furnished as a collaborative space.
Exhibit Gallery
The 2nd floor exhibit gallery will be reconfigured with new, state-of-the-art exhibit cases installed in the floor's central area. In place of the existing cases, soft seating will be provided around the two interior light wells.
Carpeting
New carpet will be installed throughout the 2nd and 3rd floors.
Hatch Science Library
Library Entrance
The former reference desk and adjacent shelving will be removed and replaced with soft seating.
Carpeting
New carpet will be installed in the circular stairwell that connects the ground through 2nd floors of the library.