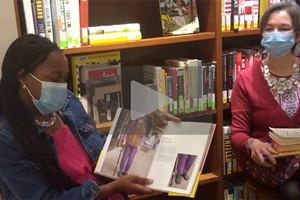 The BIPOC collection display highlights materials held at the Bowdoin Library and represents an opportunity to increase the inclusivity of Library collections from a student perspective. Thando has curated this inaugural display, which focuses on themes of motherhood and speaks to her childhood disappointment in not finding someone like herself among the literary characters she most admired.
Through conceiving of and curating the display, Thando hopes to "increase representation and show children of color everywhere that they can see themselves slaying dragons and saving the world in a way I never could have dreamed." In conversation with Carmen Greenlee, Humanities and Media Librarian, Thando will speak about the theme of the display and her selection of books included in it and read selected passages.
For questions, please contact Erin Valentino.