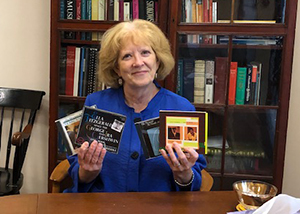 The Great American Songbook is not a single or immutable collection. Rather, it refers to the body of popular songs composed during the first half of the twentieth century that gradually coalesced into a canon of "standards" for singers and jazz musicians.  Admired for their polished music and lyrics and written during the era when radio and film began to flourish, the songs' lineages can be traced from vaudeville and Tin Pan Alley (the center of music publishing in New York in the late 19th and early 20th centuries) to the stage revues and book musicals of Broadway, all of it intersecting with, and stimulated by, the veritable torrent of scores produced for Hollywood.  This repertory of songs—which includes the music of Irving Berlin, George Gershwin, Jerome Kern, Harry Warren, Arthur Schwartz, Harold Arlen, Duke Ellington, Cole Porter, Vincent Youmans, and Richard Rodgers, not to forget the lyric poetry of Otto Harbach, Johnny Mercer, Lorenz Hart, Dorothy Fields, Yip Harburg, Ira Gershwin, and many others—has been recorded by countless performers. While over the years I have succumbed now and then to different singers' interpretations, in the end, I always return to Ella Fitzgerald.
Fitzgerald approached the American Songbook through a collaboration with an extraordinary group of arrangers, bandleaders, and jazz musicians. Together, they created a showcase series of studio recordings between 1956 and 1964, each focusing on the masterful achievement of a single artist or songwriting duo: Berlin, Porter, Ellington, Rogers & Hart, Arlen, Kern, Mercer, and George & Ira Gershwin. The Ella Fitzgerald Song Books combine well-known with less-familiar songs in a variety of brilliant arrangements, from big-band swing to small jazz ensembles.  Her singing on these recordings is focused and compelling.  She alters the color of her voice, transitions from quiet contemplation to blues shouting, varies both her vibrato and her dynamic level in a single phrase, or subtly shades the meaning of a lyric. Take for example her rendition of the Gershwins' Someone to Watch Over Me and the halting sound of "Tell me" at the end of the verse, which tugs on the heartstrings, the expressive changes to the phrasing she incorporates into each repetition of the chorus in Berlin's Cheek to Cheek, and the musical gymnastics of her scat eruptions in Ellington's It Don't Mean a Thing.  Repeated listenings never fail to reward with new discoveries.
In her performances, Ella Fitzgerald brought out the best of these songs and the moods and nuances of their lyrics. And through her incomparable Song Books collection she paid tribute to some of the greatest composers and lyricists whose works make up the core of the golden age of American popular music.  There is little reason for me to stray.