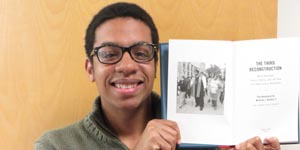 Growing up in South Louisiana, the Black church was a large part of my childhood. My mother was incredibly religious; we were a member of three churches and Sunday was our busiest day of the week. As exhausting as that was, I am still reminded of the powerful sermons and the moving music. The Black church, however, is so much more than that; it is the bedrock of the Black community, a hospital for healing, a center for community engagement, and a great organizer for political activism.
Reverend William J. Barker, II creates a beautiful history of his political engagement through his book, The Third Reconstruction. To him, religion is not an excuse to stay away from politics, but is the very call to politics, an obligation that truly defines what it means to be a religious leader: to make the lives of the people surrounding you better. He talks about his early work of establishing a union in a small town in North Carolina, heading the state's NAACP, working in defense of public education, and fighting for marriage equality. All the while, the echoing chorus seems to be that the work for justice will never be completed; it is a laborious process, and it requires a willingness not only to stand up for the issues that are important to you, but also the issues of importance for others. Each chapter is a stage used to highlight the importance of fusion coalitions.
Dr. King said that the arc is long but it bends toward justice. Reverend Barker would extend that metaphor and say while it bends toward justice, each and every one of us is responsible in ensuring its bend. The war isn't over; celebrating victories are fine, but the Reverend uses his book to remind folks that we are called to stay engaged in the struggle.
I highly recommend this book. It's an encouraging piece of work that has helped me understand why some of my passions and interests are linked to the church. Most importantly, this book reminds me and others to keep on keepin' on. We must stay woke.​