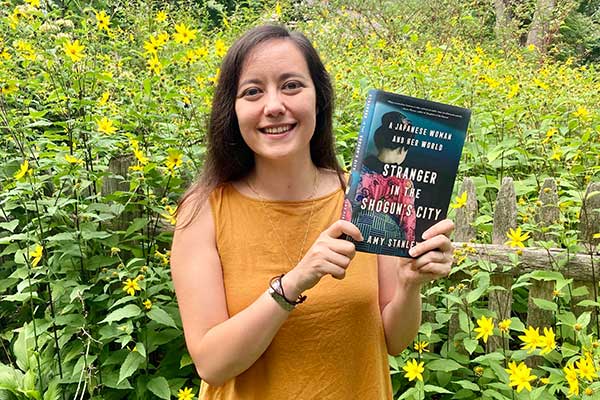 Most summers, I go to Japan or China for research, but the pandemic this year has made fieldwork abroad all but impossible. To escape lockdown without ever having to leave Brunswick, I read Stranger in the Shogun's City, written by my brilliant friend and colleague, Amy Stanley, a history professor at Northwestern University.
Stranger in the Shogun's City chronicles the near-anonymous existence of a Buddhist priest's daughter, Tsuneno, who lived through the first decades of Japan's tumultuous nineteenth century. Born in rural Echigo, Tsuneno grew up to be an unconventionally headstrong woman who ran away to the political capital of Edo after three failed marriages. Stanley pieces together her scandalous adventures from an archive of handwritten letters between Tsuneno, her father, and brother. In Edo, Tsuneno supports herself as a maidservant, eventually scratching her way out of tenement poverty into the employ of the city magistrate. The book takes place at the cusp of momentous and irrevocable change for this city, in the years before industrial capitalism transformed it into the megalopolis we know today as Tokyo.
We'd like to view Tokyo as a city of the future, with its gleaming skyscrapers, neon lights, and seamless subways, but Stranger in the Shogun's City reminds us that there were once other cities before the one we'll see on full display at the 32nd Summer Olympics. Edo was a vibrant city of samurai compounds, wooden flophouses, kabuki theaters, and turbid canals, as Stanley so vividly reconstructs for her readers.
My favorite genre has been microhistory — accounts of unknown people whose lives reflect the changing world around them. But Stanley goes beyond this to argue that the unforgettable Tsuneno, who (spoiler alert!) died of illness in 1853, just before the American 'opening' of Japan, actually mattered. Maidservants like her kept the city of Edo — one of the largest in the world at the time — running.