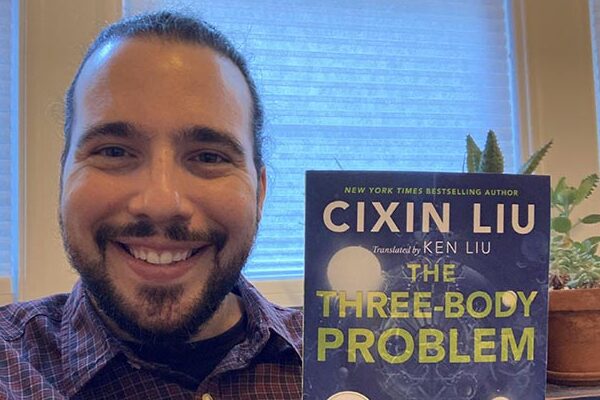 It might seem surprising that a sci-fi novel about alien conflict could provide solace during quarantine, yet somehow Cixin Liu's The Three-Body Problem inspired an interesting shade of hope for me in the depth of winter. As the first installment in Liu's Remembrance of Earth's Past trilogy, this book offers a novel take on the consequences of discovering that we are not alone in the universe. Notably, Liu frames the book through Chinese history, starting with the Cultural Revolution. This trilogy has won a litany of writing awards since its initial publication in China in 2008, and it is unlike any other sci-fi book I have encountered.
I appreciate how this book works at so many scales. Liu is not afraid to tackle profound questions relating to cutting edge physics problems, the nature of intelligence, and the long-term trajectories of human societies. These seemingly unwieldy topics are creatively grounded through a narrative arc that imagines how alien contact would irrevocably alter our society across time and space. As a cultural anthropologist, what makes this novel remarkable to me is how Liu focuses an ethnographer's eye on the vivid details of multifaceted individuals. He paints their lives, from the mundane aspects of everyday life to their defining moments, including flawed feats of heroism and the cold loneliness of heartache.
The Three-Body Problem also has the exceedingly rare quality of kickstarting a trilogy that only gets better with each book. I ultimately found the three books comforting within the context of our current historical moment. They provide a sobering reminder that while in the midst of a crisis era, it is difficult to keep perspective on the broader cycles of history. Looking back from our present moment, tumultuous periods such as the 1960s represented cultural beginnings, though for many people such times felt like endings when they were happening. The Three-Body trilogy is far from a Pollyanna story of naïve optimism. Indeed, it includes harrowing aspects of tragedy in which characters face seemingly-inevitable catastrophes that mirror our own specter of impending climate change. However, Liu reminds us that eras of cynicism—which can feel like descents into the abyss—tend to be followed by new dawns that are unlike anything that those people could have imagined.